Artisan wins UK Property Award for Best Residential Conversion
October 2016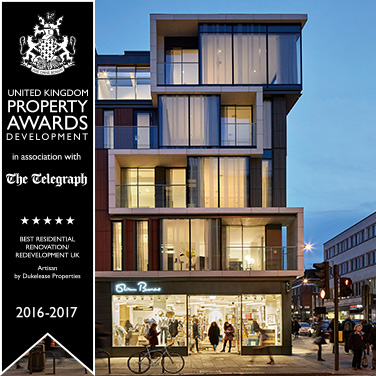 Rounding out a successful year of industry recognition, Artisan has been presented with the award for Best Residential Conversion at the 2016 UK Property Awards.
At a glittering gala dinner attended by the industry's biggest players, Artisan was commended for its sensitive yet distinctly unique design on what is arguably one of London's most ambitious and challenging development sites.
Taking no less than seven years to come to fruition, Artisan has been a challenge, an opportunity and a journey. The development's success at the UK Property Awards is validation of the hard work Dukelease and the entire project team have put into the development.
Following the announcement, Richard Leslie, CEO of Dukelease Properties said, "Although a challenging project, Artisan represented a unique opportunity to create something truly special. We had the pleasure of working with a great team who shared our vision and after seven years of hard work we are delighted to deliver a collection of beautifully crafted homes offering contemporary living in a highly desirable, bohemian neighbourhood in central London."
The UK Property Awards are open to residential and commercial property professionals from around the United Kingdom. They celebrate the highest levels of achievement by companies operating in all sectors of the property and real estate industry. As the highest scoring winner in its category, Artisan has now been entered into the overall International Property Awards, which ultimately determine the world's finest property companies and developments.