Dukelease exhibit at the London Real Estate Forum for the third year running
June 2016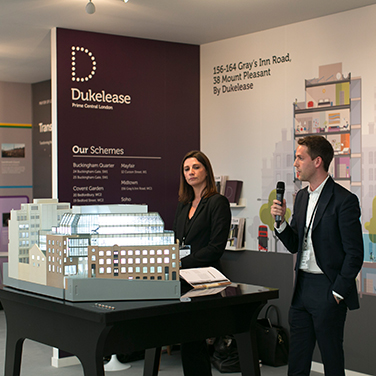 The 2016 London Real Estate Forum was held in Berkeley Square on the 14th and 15th June where Dukelease Properties exhibited for the third year running. Hugely successful since its launch in 2013, the London Real Estate Forum has firmly established itself as the premier event for leading players involved in London's property and investment sector with over 1,650 delegates attending this year's conference.
Showcasing our latest project located at 156 – 164 Gray's Inn Road, guests were greeted at the Dukelease stand by a large illustrated visual of the predominantly commercial building and a distinctive model which opened up to show the interior floorplates.
Dukelease CEO Richard Leslie joined a select group of London's key property players in a panel discussion on Mayfair, St James's and Regent Street whilst Managing Director Paul Cook participated in an insight seminar on Crossrail 2.
London Real Estate Forum 2016 was a great success and we'd like to congratulate Pipers Projects on another wonderful event.