2015 London Real Estate Forum
June 2015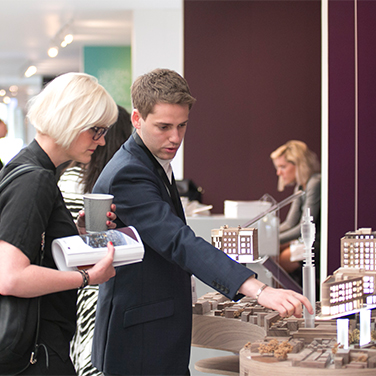 The 2015 London Real Estate Forum was held in Berkeley Square on the 10th and 11th June where Dukelease Properties exhibited for the second year running. Hugely successful since its launch in 2013, the London Real Estate Forum has firmly established itself as the premier event for leading players involved in London's property and investment sector with over 1,650 delegates attending this year's conference.
Adopting the theme 'all things Fitzrovia', Dukelease took the opportunity to showcase our three schemes in the area;
- 1 Goodge Street
- 33 Foley Street
- 87 Cleveland Street
Visitors to the Dukelease stand were welcomed by a distinctive model of the three schemes set against a Fitzrovia backdrop. The unique design presented Dukelease's three Fitzrovia projects on plinths floating above the surrounding area allowing us to put the developments in context whilst also providing as much information about building style and façade as possible.
Dukelease CEO Richard Leslie and Managing Director Paul Cook joined a select group of London's key property players to discuss latest ambition and opportunity to create growth in the provision of offices, housing and retail for the City of Westminster as well as the effect of Crossrail on the area.
All in all London Real Estate Forum 2015 was a great success and we'd like to congratulate Pipers Projects on another wonderful event.